+2
18V ONE+™ String Trimmer/Edger & Sweeper with 2.0Ah Battery & Charger
Model: #P2034
+2
This ONE+ 18-Volt Combo Kit gets your yard chores done conveniently and effectively. This lightweight trimmer will help you clear paths up to 10 inches wide with the ability to rotate and turn into an edger. The cordless sweeper is ideal for clearing hard surfaces, and is designed for easy 1-handed operation to make quick work of those driveways, sidewalks and decks. The ONE+ 18-Volt Lithium-ion battery is compatible with all Ryobi One+ tools, that's 50+ tools, you'll get fast recharging of the battery with the dual-chemistry quick-charger. All backed by a 3-year warranty, look to Ryobi for performance and versatility.
Features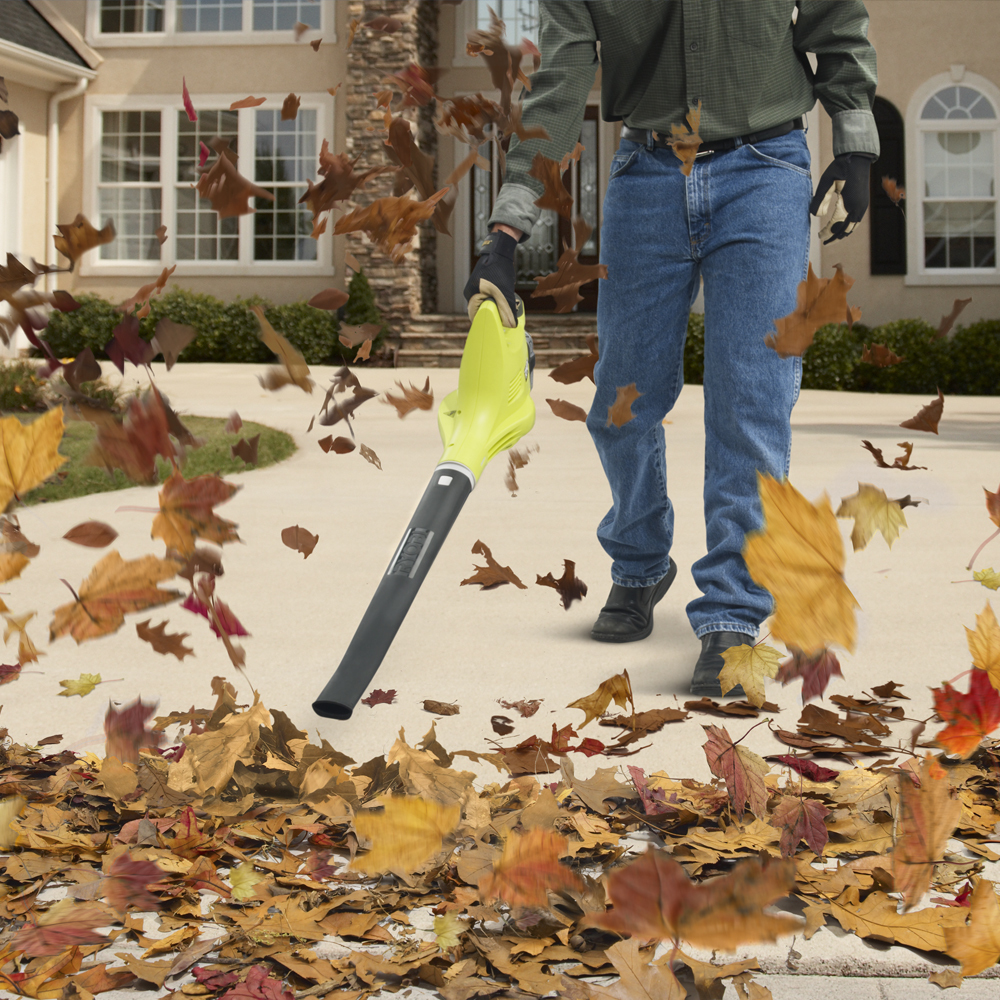 RYOBI ONE+ 18V Trimmer-Edger//Blower Combo
Works with all Ryobi ONE+ tools and batteries
Trimmer: 10 in. cut width
Trimmer: simple press-and-turn conversion to edger mode
Blower: 120 MPH ideal for hard surfaces
Blower: light weight design for easy handling
3-year limited warranty
Specifications
MPH: 120
CFM: 120
Blower Weight: 3.8 lb
Cutting Width: 8 -10 in
Trimmer Weight: 3 lb
Includes
18V Trimmer
18V Blower
(1) 18V High capacity Lithium-Ion Battery
18V Charge
Operator's Manual
Reviews
18V ONE+™ String Trimmer/Edger & Sweeper with 2.0Ah Battery & Charger
18V ONE+ String Trimmer/Edger & Sweeper with 2.0Ah Battery & Charger
is rated out of
5
by
455
.
Rated

4

out of

5
by
Jay42
from
A great purchase for money spent
The trimmer/blower combination was a must buy when I saw it advertised. After purchasing the 18v Trimmer/Edger unit, I wanted to purchase a second battery for it. While mulling over the battery purchase, this combo went on sale for Memorial Day. I went the day the add reached our house and made the purchase. It has been the best purchase I have made in a long time. The trimmer is very light weight and easy to control. My wife has claimed it for herself because of it's weight. I like the fact it has a brushless motor...more efficient. My wife and I like the blower because of its weight and it makes clean-up of the walkways and patios so easy.
Date published: 2017-06-19
Rated

5

out of

5
by
rcfairing
from
Workes way better that expected
I bought this two weeks go because I needed at string trimmer for a small job in a remote location. I did not need or want a blower at that time but they came as a package deal. It worked a lot better that I thought it would by a mile. Got all my trimming done on one battery charge with battery to spare. Since then I have used it several more time with great results. Since then The blower than I did not really want of need has become one of the handiest tools. I have found all kinds of small jobs for it that make life much easier. I am so glad to find out how wrong I was about this blower and I am loving the little trimmer than can.
Date published: 2017-06-01
Rated

5

out of

5
by
Big Dog
from
Perfect tools for the wife.
My wife loves to help me with the yard work, but the tools I've purchased in the past have all been too heavy or bulky for her to operate not to mention having to service them prior to each use. With the combo kit of the string trimmer and battery powered blower offered by Ryobi and sold at Home Depot, she now can just pop a battery into the trimmer to weed eat the yard and then use the same battery to blow off the porch and garage area's. I'm looking forward to purchasing more of the Ryobi tools to add to the already large collection of Ryobi products that we own. Thank you Ryobi for great products and Home Depot making it available to the public.
Date published: 2017-06-24
Rated

4

out of

5
by
Nouwah
from
BETTER THAN EXPECTED!
I bought this combo at the suggestion of my daughter who has had her trimmer since last year. I am very impressed, especially for the low cost and getting two for one. The trimmer does a great job, even in long grass and weeds. I had a blower, but it doesn't compare to this one. It has a lot of power and really cleans up for me. As a healthy 71 year old woman, I needed something that I could depend on and was light-weight enough for me to handle. The only reason I didn't give it 5 stars is because the battery didn't last as long as I had hoped it would, though I know that you can get a bigger battery if needed. I'd definitely buy this product again.
Date published: 2019-08-09
Rated

5

out of

5
by
Doug Allan
from
I love any Ryobi product!
I have many Ryobi products and love them all. I saw this Trimmer-Edger/Blower combo at Home Depot and thought I'd give them a try. I do have a larger gas powered trimmer and love the way it always gets the job done, but sometimes its a bit cumbersome. This smaller tools work great for the jobs that need quick attention. I can just get our the Ryobi trimmer or blower and make a quick clean up job without the bother of checking gas, mixing gas, pulling the crank until it starts up and lugging a heavy machine out of the garage to do a simple little job. I haven't had these tools long, but from what I can see, they are fantastic and I would recomend them to anyone!
Date published: 2017-06-18
Rated

5

out of

5
by
BecauseJeep
from
Great trimmer and sweeper for small yards
First off I'd say I wouldn't use this at my parents house, the yard is far too big for this trimmer. But for my little house I live in while I go to school, it's absolutely perfect. I have about 500 feet of fence, answer maybe 100 feet of sidewalk. It will trimm around the fence, edge the sidewalk and driveway, with just enough juice left in the battery to blow all the trimmings off the pavement. Recently bought a 4.0AH battery and you can do all the things I just said twice on one charge. I also recommend a new charger, the black one hour chargers are excellent. Absolutely love this combo, and this brand.
Date published: 2018-04-23
Rated

4

out of

5
by
JayHam
from
Very happy customer
I already have a trimmer but decided to purchase these items as a combo because of the price. I was a little concerned because I knew the voltage would not give me the power I was use to having with my other power tools. But, after my second usage I must admit that I am satisfied. Trimming and blowing was done with battery charge. Although the blower does not have the power I want, it gets the job done quickly without plugs or gas. My only concern is once the battery stops working as they all do, will I be able to get a replacement with buying all new equipment, because the battery is discontinued!!
Date published: 2017-06-06
Rated

5

out of

5
by
HerbHatton
from
Best Product my son turn me on to
I just bought this this week, My son brought down his ryobi trimmer and blower along with his tools. I liked the weight of the products because of my age they are not as heavy and the battery life is better than other products I had in the past. I also like no pull start and not having to mix gas and oil for my old gas products. Since my son turn me on to Ryobi I will be referring all my older friend who have problems like myself so they don't have to worry about the weight and pull stating or mixing oil in to gas for other trimmers or leaf blower .My son has a whole wall of ryobi products and I am going to also. I am replacing all my power tools along with yard tools as the year goes on
Date published: 2019-04-26