+11
40V-X ATTACHMENT CAPABLE STRING TRIMMER
Model: #RY40220
+11
The RYOBI 40V-X Expand-it String Trimmer delivers Gas-Like Power™ without the hassle of gas and oil. This powerful trimmer features a REEL-EASY bump feed string head for fast and easy reloading; and premium .080 in. twisted dual line for cutting through brush and thicker grass. The RYOBI 40V-X Expand-it String Trimmer is the first cordless system that is also attachment capable. Add the Expand-it cultivator, blower or even edger to the bottom shaft of the RYOBI 40V-X String Trimmer power head to quickly transform your lawn from overgrown to manicured. This string trimmer puts users in control with a variable speed trigger and adjustable cutting width. The entire RYOBI 40V family runs off of the same 40V lithium-ion battery platform. The RYOBI 40V-X Expand-it String Trimmer is backed by a RYOBI 5 year warranty.
Features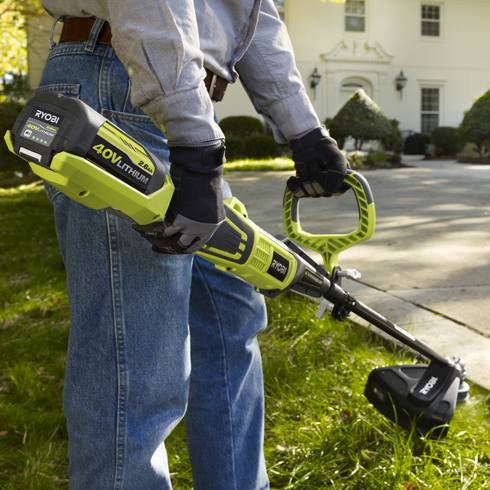 GAS-LIKE POWER™
Attachment Capable: Accepts Universal Outdoor Attachments
Premium .080 in. Twisted Dual Line
REEL-EASY™ Bump-feed String Head For Fast And Easy Reloading
Variable Speed Trigger Allows More Powerful Cutting Or Longer Battery Life
13-15 in. Adjustable Cutting Width For Longer Run Time Or Wider Cutting Path
40V lithium-ion high capacity battery and 90 min. charger included
5 Year Limited Tool Warranty
3 Year Limited Battery Warranty
Specifications
Power Source: 40V Li-ion Battery
Cutting Swath: Adjustable 13-15 in. cutting width
Line: .080 in. twisted dual line
Line Advancement: REEL-EASY bump feed
Attachment Coupler: Universal Attachment Coupler
Trigger: Variable Speed
Yard Size: Up to 1 Acre
Includes
RYOBI 40V X Power Head
Expand-It String Trimmer Attachment
Straight Shaft Grass Deflector
40V Lithium-Ion Battery
40V Charger
Operator's Manual
Reviews
40V-X ATTACHMENT CAPABLE STRING TRIMMER
40V-X ATTACHMENT CAPABLE STRING TRIMMER
is rated out of
5
by
3896
.
Rated

4

out of

5
by
Monsterx7
from
Good item, but does have some issues
I've had this product for a year now and overall I am sissified with it. I like that I was able to still use all the attachments from my previous Ryobi gas power head. The battery life gave me enough time to trim, edge, and blow the driveway clean. The issue I just ran into was the charger not charging the batter. Called customer service and they are replacing the battery and charger without any hassles. The new battery has arrived, but I'm still waiting on the charger. After reading several review the chargers looks have issues, and they need to sort this out. Hopefully the new charger will last longer than a year (or actual half year) of weekly use.
Date published: 2017-06-08
Rated

5

out of

5
by
Tom71
from
Great for my use
I bought the Ryobi for light work around the house. I did not want something that required a cord or gas, both are a bother. I have only used a couple of times so far, but plan to trim weekly. It has worked great. The trimmer seems a little heavy to me, but I am not used to carrying a gas one around, or any for that matter. It seems the battery drops a little quick, but I only use for about an hour, and it says it is half charged, not sure how accurate that is, because it does not loose power. I would recommend to any for personal uses. I also like the fact the 40 volt battery is interchangeable with my chain saw.
Date published: 2016-09-06
Rated

5

out of

5
by
Drew616
from
Great string trimmer
I bought this over a year ago to replace my gas trimmer. I really enjoy using it. It's is lighter but most importantly it starts as soon as you pull the trigger. Pulling the cord 20 times and playing with the choke is a thing of the past. Another plus is that I can get different attachment for it. I have only bought the edger for it and it works well as long as you keep up with it. I have a corner lot with side walks so I do a lot of edging. The trimmer works well but does not do talk thick grass. The string is smaller. So overall great for trimming and edging small lot but I edge first, charge the battery and mow the lawn, and then i use the trimmer. The battery won't last to do both at once. Great price.
Date published: 2016-04-28
Rated

5

out of

5
by
ttrue12001
from
Easy to use
I kept burning out electric weed eaters/edger's so when I went to buy this, Home Depot employee happened to be in the same aisle and asked if I needed help. I explained what my issue was and he directed me to this Ryobi Expand-It Trimmer. I had never used a battery operated trimmer, I knew I didn't want to mess with gas, this is perfect! It is not to heavy for a woman, I do all my own yard work. I did get a shoulder strap just in case, but this trimmer works so much better than an electric one. Very easy to assemble out of the box. I also purchased the edger to switch out. I don't seem to use nearly as much line either.
Date published: 2017-04-22
Rated

4

out of

5
by
Ann2000
from
Efficient & Easy to use
I like having this cordless trimmer to do the edging near the curb, along the driveway and around my flower gardens! The only problem I see is that even though I am 5'6", it feels a bit too long and is somewhat awkward for me to manipulate. The other issue is that it is heavy at the bottom so it feels a little off balance. Once I figured out how to hold it, and got adjusted to both the length and the weight, it's easier now to use. I would suggest, however, some minor redesigning of the tool to make it more comfortable for use. I love not having a cord or using gasoline!
Date published: 2016-08-19
Rated

5

out of

5
by
Egf981
from
Great tool
I just purchased this yesterday. Very easy set up, light weight and cuts through the grass like butter. Battery charged right away and lasted thru the whole yard with no noticeable loss of power (my gas trimmer only made it ~3\4 of the way before I had to add gas). This unit is as powerful as my gas one. Best part is the line "reel" loader. I used to hate loading line on my gas trimmer. This one is easy and FAST!!! Price was beyond great, I purchased at Home Depot for $116 on sale. The only down side is the price of the battery and charger if you need/want and additional one, but in all fairness, all manufacturers are the same in this area.
Date published: 2018-04-13
Rated

5

out of

5
by
Luke Skywalker 2016
from
Great for the smaller size yard
I purchased this trimmer 18 months ago understanding the electric technology it runs on. By knowing what I was getting I am completely pleased. I have a smaller ranch on a 8000sq ft lot , this is easily groomed with this trimmer, edger attachment , and blower. All while using only 2 full batteries. After each winter battery performance will degrade as I would expect. About 10-15% capacity loss each year. Typical life of each battery should be 3-5 years with proper maintenance. At $100 for each battery you are not saving money in the long run over a 2cyl engine, you are gaining convenience and that is all. Love the trimmer, only change that would make it a no brainer for the smaller yard is for Ryobi to include 2 batteries.
Date published: 2016-04-18
Rated

5

out of

5
by
Vjones35757
from
Easy to use and never worry about mixing gas wrong
We just bought this expandable pack for convenience and found it is indispensable! The gas trimmer starts when you squeeze the trigger...no tugging , choking or sloshing gas to fool with, just squeeze and it's a breeze to manicure yard. Then with a swivel and a tightening take off string trimmer and add the edger! It works beautifully and again no choking, tugging or cussing another 2 cycle gas mix! Then the leaf jet blower made short work of the grass clippings on the sidewalk! My yard is small and the 1 hour charge took care of all I needed done easily. The combo kit is perfect for the patio home set! Thank you Ryobi for this great product line!
Date published: 2017-07-09