+11
40V Brushless Attachment Capable String Trimmer WITH 3AH BATTERY & CHARGER
Model: #RY40230
+11
The RYOBI 40V Brushless Attachment Capable String Trimmer delivers GAS-LIKE POWER™ without the hassle of mixing oil and gas. Compatible with all RYOBI EXPAND-IT™ attachments you save time, money and space. This new trimmer delivers increased torque and line speed for powerful cutting. It also comes equipped with a variable speed trigger and two-speed switch making it easy to control. All backed by a 5 Year Limited Warranty!
Features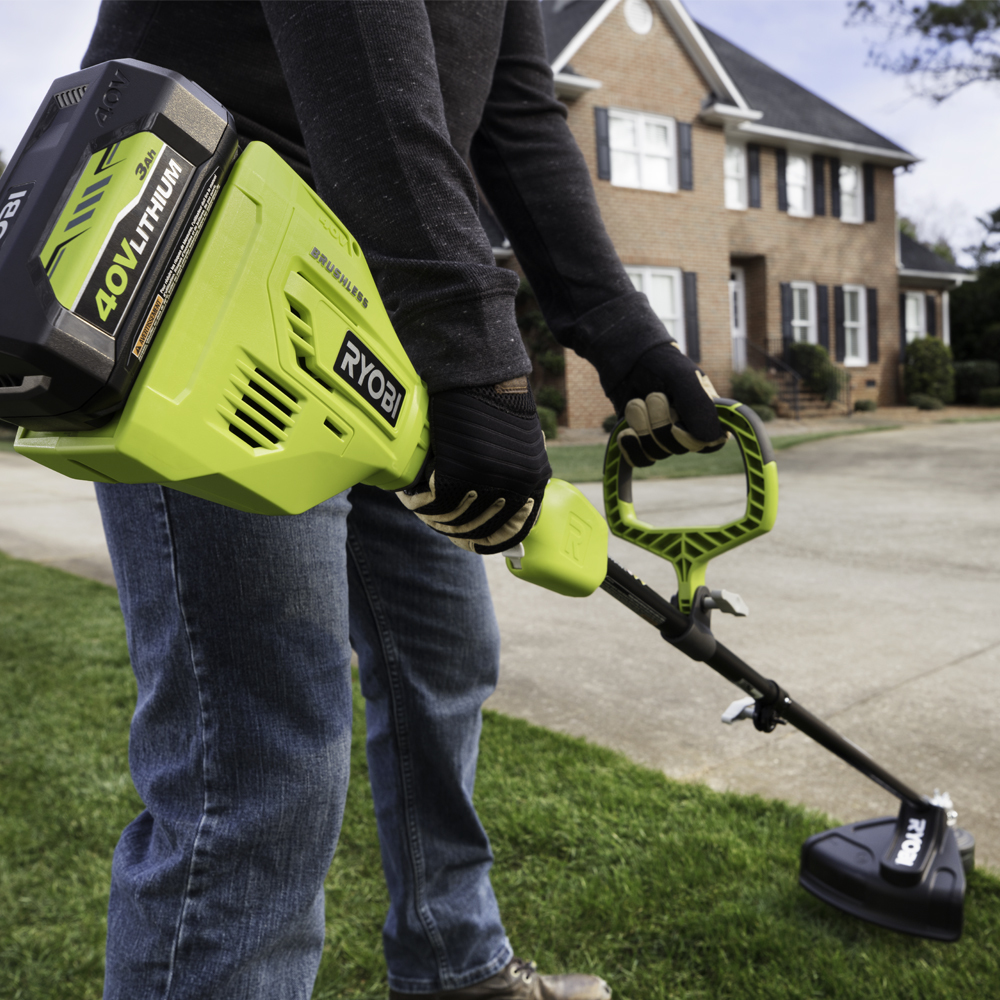 Premium Brushless Motor delivers maximum power and run time
EXPAND-IT™ Attachment Capable
REEL-EASY™ Bump Head with SPEED-WINDER™ for reloads in under 60 seconds
Variable Speed Trigger and two-speed switch for ultimate cutting control
Included 40V Battery is Compatible with 25+ 40V Tools
Specifications
Weight: 11.4 lbs.
Power Source: 40V Lithium-ion Battery
Trigger: Variable Speed Trigger
Line Advancement: Bump
Cutting Widith: 13 - 15 in.
Includes
40V EXPAND-IT™ Brushless Power Head
Straight Shaft EXPAND-IT™ Trimmer Attachment
40V Lithium-ion 3.0Ah Battery
40V Lithium-ion Battery Charger
Grass Deflector
Front Handle
.080 Trimmer Replacement Line
Operator's Manual
Reviews
40V Brushless Attachment Capable String Trimmer WITH 3AH BATTERY & CHARGER
40V Brushless Attachment Capable String Trimmer WITH 3AH BATTERY & CHARGER
is rated out of
5
by
360
.
Rated

5

out of

5
by
lccm5960
from
string trimmer edger combo
used it for the first time this weekend and I was able to trim and edge the whole yard on 1 battery charge and still had one bar showing on the power meter. very satisfied on the performance and ease of using this tool. was skeptical about going from a gas powered trimmer to a battery powered trimmer but now I'm convinced there was nothing to be afraid of. this thing has power to spare and does a better job than the gas powered unit it replaced. I am looking into getting the pole saw and blower attachments now after seeing the power this has. I would recommend this to anyone who is on the fence about switching from gas to battery powered units.
Date published: 2018-06-03
Rated

5

out of

5
by
Christine 48
from
Freedom
This Ryobi string trimmer has given me such freedom to move in and around our yard, garden and pool. Before, I used an electric trimmer that really limited the distance I could trim and was such a hassle to drag the cord around with me. Later, I tried a gas trimmer but didn't like the aggravation of keeping gas on hand and often had difficulty with the pull rope getting caught and not being able to start the engine. This Ryobi string trimmer operates with such ease. The string is so easy to replace and best of all, after the battery is charged I am ready to hit the yard running and nothing holding me back. I will definitely be a life-long Ryobi customer!
Date published: 2018-08-21
Rated

5

out of

5
by
lawman87xx
from
Finally, True Gas Power from Ryobi!
I originally purchased the 40v standard string trimmer and I was somewhat disappointed by its power. I returned it and go this new model. WOW! This is was i was expecting! SO much more power and speed. I actually run my trimmer on low and not even full throttle (throttle feature is nice). I cant wait to try it with my pole saw attachment and soon to get cultivator attachment. I have hoards of Ryobi tools and their performance prompted me to get into their outdoor lineup, after a near miss with my first purchase I am very pleased to say this is what I was looking for. I would put power very much on par with gas and without the weight/fumes/vibration it wins hands down. I might suggest they include a should strap for the unit,its lighter than gas but still could use a should strap IMO.
Date published: 2018-04-25
Rated

4

out of

5
by
Ronrut
from
40v String Trimmer First Use
First use today after purchase. Did two yards, two driveways, two fence lines, around two houses and one outbuilding. Only skipped the street edge, didn't need it. About one hour of use, battery was on last leg when finished. Did every bid as good as my old electric, without the hassle of the cords. Still experimenting with balance so my arms don't get so tired. WOULD GIVE FIVE STARS IF SOMEONE COULD TELL ME HOW TO LOG INTO MY ACCOUNT. SET IT UP, REGISTERED THE PRODUCT, GOT A CONFIRMATION EMAIL, THEN LOGGED OUT. CAN'T GET BACK IN. AND YOU HAVE TO HAVE AN ACCOUNT AND LOG IN TO GET HELP. CATCH-22!
Date published: 2018-07-30
Rated

5

out of

5
by
Elvirus1
from
Works better than I expected!
Bought this with little expectations thinking since I had a small yard that I could afford to go with a less powerful than gas trimmer and chose to go with the Ryobi brand after talking to a few people and man was I blown away. This trimmer really does great on just about any weed or grass you throw at it. I can do my yard about 3 times without recharging a single time. (I do have an small to medium size yard). Definitely recommend this product to anyone looking to switch to electric lawn equipment or just looking for an update to your current model. Looking forward to getting some more Ryobi 40v tools to go along with the trimmer.
Date published: 2020-05-20
Rated

4

out of

5
by
GDAWG
from
Good but not Great
I purchased 3 Ryobi tools over the last month or so and the string trimmer is my least favorite. I have used the 40V string trimmer several times now and I have two complaints. One is I have to be very careful how I hold the trimmer or my legs will get blasted with debris. The guard needs to be bigger or at a different angle to fully block debris from being kicked back. The other complaint is that I am trimming St. Augustine grass and it has a hard time cutting thru the longer strands or runners of the grass.
Date published: 2018-05-03
Rated

5

out of

5
by
ScrewCarbs27
from
Bye Bye Gas Trimmer
Considered this after fighting with my gas trimmer for over a week and a half. I figured out what the problem was, but at that point, I had had enough. I decided that I'd try the RYOBI out and see if it could really keep up with my gas string trimmer. So I took it out of the box, charged up the battery, and put it through a torture test of yard tasks. It more than kept up with the gas trimmer as far as capability is concerned. What truly impressed me was that after about a combined 35 mins of medium to hard trimming it only consumed 1 of the 4 bars of battery life. Looks like the gas trimmer is going on marketplace after all!
Date published: 2019-09-03
Rated

5

out of

5
by
Spidman
from
Very light!
Nice trimmer if you like power without the headaches of a gas trimmer...I also have the Blower 40v and I can use the battery from that too...So when I'm using one, the other is charging. Seems to last 45-60mins on the 2.6ah, (Which it came with.) and last about 15- 20mins longer on the 3.0ah battery from my blower. I like it!
Date published: 2018-04-11