+10
2 Cycle Full Crank Straight Shaft String Trimmer
Model: #RY253SS
+10
Introducing the RYOBI 2 Cycle Gas Straight Shaft String Trimmer with a full crank engine for 2X longer life. This string trimmer accepts RYOBI Expand-It Universal Brand Fit attachments adding versatility to your trimmer. Simply attach an Edger, a blower, or even a tiller to the power head and quickly move from project to project. Save time, save space and save money with the RYOBI Expand-It System. RYOBI makes string head reloads easier with the Reel-Easy String Head; thread your string, twist the head, and resume trimming. Users will experience easier starting with the Zip Start carburetor and included Ethanol Shield 2 Cycle Oil. Backed by a 3 year warranty, trust the RYOBI 2 Cycle Gas Straight Shaft String Trimmer for your outdoor trimming needs.
Features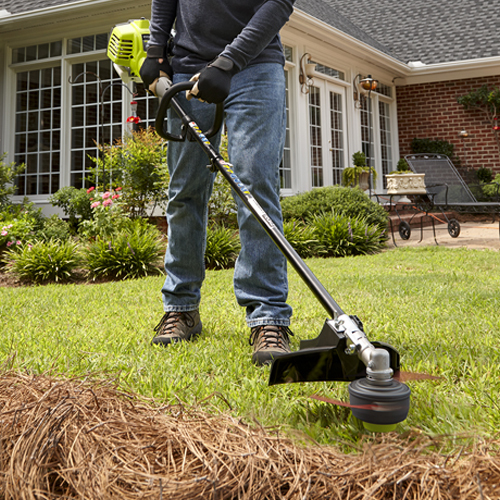 Full crank engine for 2X longer life
Zip start carburetor for easier starting
Attachment capable: accepts universal brand fit attachments
Reel-Easy bump-feed string head for faster reloads
Straight shaft for extended reach around and under obstacles
Includes
Power Head
Straight Shaft Trimmer
REEL-Easy String Head
2 Cycle Ethanol Shield Oil
Reviews
2 Cycle Full Crank Straight Shaft String Trimmer
2 Cycle Full Crank Straight Shaft String Trimmer
is rated out of
5
by
2892
.
Rated

5

out of

5
by
drivy19
from
Excellent replacement for my previous Ryobi....
Purchased this unit to replace my older Ryobi string trimmer which became impossible to start. I hadn't realized that my previous Ryobi was close to 15 years old and until recently NEVER had a problem with it! The benefit of replacing it with another Ryobi string trimmer, just slightly smaller in size, is that I could use the "front end" of my old trimmer on my new one....it fit snug as a glove and works perfectly! Needless to say, Ryobi products are so impressive in durability that I ALSO replaced an older cordless power drill with a new Ryobi 12v driver/drill. From here on out, it's Ryobi products in my shop and household! Dr. John Ivy A.M.I.
Date published: 2017-07-10
Rated

5

out of

5
by
backcountry
from
All the right stuff
I own 80 acres and deal with everything that grows & some that grow wildly. I picked up a old Ryobi at a garage sale one day. Before I owned 3 different names of Weed Eaters including one costing around $600.00. Today I still have them all yet 99.5% of the time I grab the Ryobi. It's lightweight, powerful, incredibly durable and easy to start. I can use it for hours without strapping it around my waist, shoulders or neck. I can easily lift it over my head to get blackberries out of trees. Now I own 3 Ryobi's total, all set up differently. They all hang together in a row alongside the mega-yacht names in weedeaters. Ryobi, It's my go-to weedeater 99.5% of the time.
Date published: 2017-08-07
Rated

5

out of

5
by
Ocinsomniac
from
Perfect For My Needs
Had a Ryobi four stroke trimmer I bought 16 years ago just died on me. Didn't want to spend any money on parts or repairs for one that old, so I decided to stick with Ryobi. Was so pleased with the Ryobi hand held 2 stroke leaf blower I have, so I decided to go with the 2 cycle on the string trimmer, couldn't beat the price at $119 at HD. Both start very easy and have plenty of power for my needs. My new trimmer also handles my attachments that I used on my old one.....a win-win. Can't go wrong with Ryobi, who builds quality products for the average homeowner at a reasonable price, rather than the more expensive commercial grade brands.
Date published: 2019-07-06
Rated

2

out of

5
by
FletcherD
from
No.
This product is an excellent example of a tool that has been improved to death. I've used mine for five months. It's finnicky, loud, and probably more trouble than it's worth. Upon first use, I found that the reel easy string feature was a joke. Not that I minded unscrewing the nut and manually resetting the spool - that's how people used to do it. Unfortunately, now the nut is stuck and I have to take it to Home Depot to see if they can help me pull the thing off. As a general rule, if the classic version of something took a few minutes to reset and now it takes multiple calls to customer service and a trip to home depot, you should just stick to the traditional approach. I really don't want to buy a new weedeater, but it may just come to that. Bad product.
Date published: 2017-08-17
Rated

5

out of

5
by
sjullrich
from
Quality product at a very reasonable price.
Easy to assembly, no tools required. Instructions were brief and clear. I filled it with 50:1 premixed fuel. Starting instructions were clear and it started right up. It runs like a Swiss watch and quieter than I expected. It is well balanced and easy to handle. I was pleasantly surprised to discover that it has a centrifugal clutch. At idle the head doesn't turn at all, which is a great safety feature. Reloading the string couldn't be any easier. I love it.
Date published: 2017-06-03
Rated

1

out of

5
by
Ru55ell
from
Don't waste your money
If you like to spend money on stuff that doesn't work well then step right up this is the perfect product for you. I bought these trimmer at the end of last summer used it about 2 or 3 times. At the beginning of this summer I went to go use it and it would only run on half choke and that's after you have to mess with it to get warmed up first. Used it a couple times like that and now it won't even start. Save your money and buy a better brand instead of this garbage.
Date published: 2017-07-26
Rated

1

out of

5
by
Ori s
from
Bad luck with this product
I got one good year out of my first ryobi string trimmer. The carberator started to go and after cleaning it thoroughly I was able to get another 2 months of use. After replacing the carberator with a new one, the trimmer lasted about 6 more months, but always gave me problems starting and stalling out. Reluctantly I purchased a new Ryobi string trimmer a few weeks ago. This time I purchased the extended warranty from Home Depot. Upon first use it took almost 50 pulls to get the thing started. It ran wonderfully that one time. The next time I went to use it I could not get it started. I flushed the carberator and even tried different gas. Frustrated, I returned the product and vowed to never buy a Ryobi string trimmer again. Waste of time and money.
Date published: 2017-04-20
Rated

5

out of

5
by
jraelinville
from
Awesome feel and bonus features!
I purchased this trimmer 2 months ago after I bought a new home with a 2 acre overgrown property. I spend hours using it, so I love that it weighs less than other trimmers I have owned, allowing me to get more done with less back pain. My absolute favorite aspect of this trimmer hands down, is its versatile bonus features! The trimmer head can be removed and you can purchase separate attachments such as an edger head, pole saw, or brush cutter! This makes the functionality of this tool amazing! The pole saw expansion attachment is an awesome must have, allowing you to reach tall limbs, branches and more!
Date published: 2019-07-20