+10
18V ONE+™ LITHIUM+™ String Trimmer/Edger & Jet Fan Blower with 4Ah Battery & Charger
Model: #P2035
+10
This RYOBI Combo Kit gets your yard chores done conveniently and effectively. No need to fuss with gas, oil or cords - this set runs on an efficient lithium-ion battery. The RYOBI 18 Volt Lithium+ Jet Fan Blower is perfect for any yard. This blower features a jet fan design that provides power up to 100 MPH and 280 CFM, and a variable speed trigger that allows the user complete control. The unit's light weight makes hard work easy, and the ONE+ 18 Volt lithium-ion battery is compatible with all RYOBI ONE+ tools. Plus, you'll get fast recharging with the dual-chemistry quick charger, all backed by a 3-Year Warranty.
Features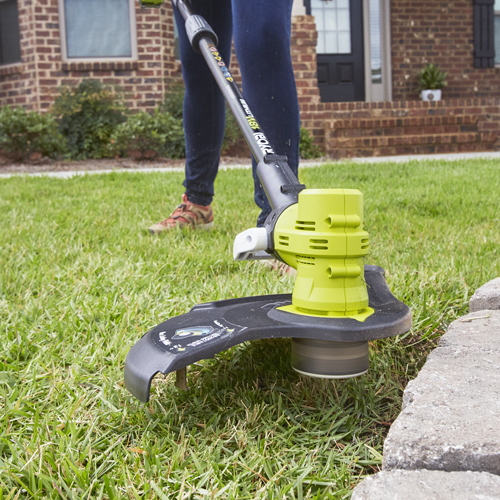 String Trimmer/Edger
Up to 1 Hour Run Time with the Included 4.0AH Battery
Pivoting Head for a Simple Transition to Edging
Variable Speed Trigger Allows for More Cutting or Longer Runtime
11 in. to 13 in. Adjustable Cutting Width
Jet Fan Blower
Jet Fan Technology Delivers 280 CFM of Clearing Power
Ideal for Clearing Hard Surfaces & Dry Leaves from Grass
Variable Speed Trigger for More Control
Specifications
String Trimmer/Edger
Trigger: Variable Speed Trigger
Line Advancement: Auto-Feed
Cutting Swath: 11-13 in.
Jet Fan Blower
Triggger: Variable Speed
CFM: 280
MPH: 100
Includes
18V ONE+™ LITHIUM+™ String Trimmer/Edger
18V ONE+™ LITHIUM+™ Jet Fan Blower
18V ONE+™ LITHIUM+™ 4.0AH High Capacity Battery
18V ONE+™ Dual Chemistry Charger
Operator's Manual
Reviews
18V ONE+™ LITHIUM+™ String Trimmer/Edger & Jet Fan Blower with 4Ah Battery & Charger
18V ONE+ LITHIUM+ String Trimmer/Edger & Jet Fan Blower with 4Ah Battery & Charger
is rated out of
5
by
1576
.
Rated

5

out of

5
by
Txgent10
from
I needed a trimmer, but the blower is big bonus!
My old Ryobi trimmer died after many years of use, well really the 40 volt battery did, to replace the battery the cost made it worth while to look into a new one. I have a shop full of Ryobi 18 volt tools, so it just made sense to look at this set. The trimmer worked as well or better than any trimmer I've ever owned, but the big bonus was the blower. As far as I was concerned the trimmer was worth the total price I paid for the whole set, and I still think that, but the blower is powerful enough to handle any outdoor project, but small enough to use in my shop as well. Buy it for the trimmer, but you will love the blower as well!
Date published: 2018-09-29
Rated

4

out of

5
by
markflorida
from
Blower great, trimmer not so much
This package was specially priced so that the trimmer was almost free. The blower is light and surprisingly powerful. I had used a bigger echo electric blower before and it was much heavier and not near as good in performance. The string trimmer is rinky dink. It requires you to use proprietary line spools instead of just refilling the line. It also feeds more line each time it starts rotation so you waste a lot of line. Poor design intended to sell line spools imo. It does work ok and might be fine for a very small area but if anything larger, do yourself a favor and get a real string trimmer. Review tick boxes are for blower only, not string trimmer.
Date published: 2018-07-16
Rated

5

out of

5
by
Rangodango614
from
Excellent Quality
I put this combo set to the test in my disaster of a backyard, The battery and the trimmer held up great through the initial abuse. I did have to charge the battery a couple times simply because of the amount of work i was putting it through to get my yard back to a maintainable status. Hower ever now that i have tamed the yard weekly maintenance is a breeze and i never have to worry about battery charge. The edger is a great feature and works way better than I expected. and the blower is perfect for yard clean up. can't say enough for how satisfied I am with this product. excited to expand my Ryobi battery operated tool set
Date published: 2018-07-30
Rated

4

out of

5
by
Navas
from
Smart but half way
I tryied this trimmer, works excelent but it wasted the original battery then se second and finally my 3erd battery and all I did o try to finish was only what shows on picture. Ahh but the jet blower has it 5 stars cause and works wirh much power and use only the original battery. I like the trimmer because I can just turn with my foot the cutter wheel it is nice and convinient. Just make some adjustments and will be just fine. So I returned back to store and got me the 2 cycle 18" gas straight trimmer, works very strong and does a good job. Sorry I can't send the picture I mensionated the applicatuon don't help. But it was about 10x20' aproximately. Thanks
Date published: 2018-07-01
Rated

5

out of

5
by
JCIII
from
Great yard combo set!
Bought the blower to clean and dry off outdoor tennis courts during Covid-19 lockdowns. Very easy to unpack and assemble. Decent blowing power and now have used for leaves and needle debris around the yard. Bought a Ryobi 20" 40 Volt lawn mower which is awesome! Put together the Edger which was easy to assemble. A little confusing on how to hold and use correctly at first but once I figured it out it worked like a champ for trimming the edges of my yard and where my garden meet. Great purchase price and quality. Very happy with my trio of Ryobi yard tools. Mower, trimmer and blower. Way easier than gas tools to maintain and operate.
Date published: 2021-03-05
Rated

3

out of

5
by
tomatolover
from
reason for my rating
i purchased these tools to help me with my yard work and clean up after mowing the lawn. i really like the power the 18V batteries give these tools, i just wish there was an indicator on the tools to show how much battery life there was so a person was more prepared. the jet fan blower really has the oomph to get the debris out of the way. the trimmer works well, but i'm not a fan of how frequently the line advances, and gets cut off, wasting line... it's fine if you continually have the trimmer going, but if you stop, then restart, the string advances, and gets cut off. that's my main issue with this trimmer... otherwise i'm very happy.
Date published: 2019-06-20
Rated

5

out of

5
by
Tony77
from
Very happy!
I wanted these tools since I already had some Ryobi power tools and batteries and it never hurts to have extra batteries around for backup. I really like the variable speed blower, so I'm not blasting rocks out of my landscaping into the grass. The edger/trimmer works great also, but I wish it had a guide to hold against the edge of the sidewalk when edging. It took a little getting used to using without a guide, since my previous edger had a flip down metal guide that kept the cut consistent. Overall, I am very pleased with my Father's Day present to myself and love the extra capacity battery that I can interchange with my other Ryobi tools!
Date published: 2019-06-13
Rated

5

out of

5
by
GHE1
from
Very Impressed
I am a convert. Very pleased with the ease and performance of the P2008 model string trimmer/edger. I trimmed thick grass around perimeter of home and 160 feet of fence line and edged my drive on low setting and had power to spare. I didn't have dirt and grass all over me when completed as with my gas trimmer. My beautiful wife purchased the trimmer for us/me to use @ our home and her fathers. He lives 150 miles from us and we needed a light weight, reliable, powerful, and easily broken down for transport unit to take in a mini-van. We didn't want to haul the gas trimmer. This is an excellent purchase and I am very happy to have it and use it.
Date published: 2018-05-19