+6
10 Amp Electric 18 IN. Attachment Capable String Trimmer
Model: #RY41135
+6
This powerful 10 Amp String Trimmer delivers am 18 in. cutting width, allowing you to cut more yard in less time. Not only is this trimmer attachment capable with 10 different EXPAND-IT attachments, it also comes with the REEL-EASY head that reloads in under 60 seconds. Best of all, this String Trimmer is covered under a 3 Year Limited Warranty.
Features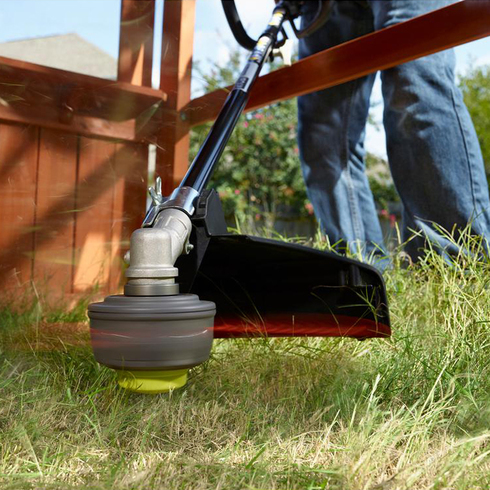 Powerful 10 Amp Motor & 18 In. Cutting Width
Attachment Capable: Compatible with 10 RYOBI EXPAND-IT Attachments
Includes REEL-EASY Bump Head With SPEED-WINDER for Reloads In Under 60 Seconds*
Specifications
Power Source: Corded Electric
Line Advancement: Bump-feed
Cutting Swath: 18 in.
Suggested Line Diameter: .080
Weight: 11 lbs.
Includes
Power Head
Straight Shaft String Trimmer Attachment
Grass Deflector
SPEED-WINDER Crank
Handle
.080 Trimmer Line
Operator Manual
Reviews
10 Amp Electric 18 IN. Attachment Capable String Trimmer
10 Amp Electric 18 IN. Attachment Capable String Trimmer
is rated out of
5
by
364
.
Rated

5

out of

5
by
doccarter2
from
Great Machine
Looked at reviews on many corded trimmers but they all had problems with line feed mechanisms or poor quality workmanship. This one had all 5 star reviews. It is a bump system (which I like) and a unique string replacement system that is quick and so easy. It is a little heavier than what I am used to but that is reflected in the high quality of workmanship and materials. The price was only a few dollars higher than the junk I almost bought from a different vendor. So glad I decided to get this. It is powerful, easy to use, comes mostly assembled, and the head unit will fit a variety of other Ryobi tools. Ryobi did a great job designing this tool.
Date published: 2018-07-17
Rated

5

out of

5
by
Jbowtie
from
Holy Molly.... This is awesome
I have a very small front and back yard fpr a mower. I have had a gas weed wacker and it was to much to maintain for what i needed. So i have had 3 different brands of weed wackers so far. Either they are not stong enough or the string is to weak or the auto feeder will just keep feeding string on its own.. Now this new Ryobi 10 amp electric string trimmer is AWESOME. Way more powerful then the other brands by far. Super quiet, long enough for tall people, so no back aches also easy to reload string, has a loop attachment for a shoulder strap.. It is a must buy if you need a electric weed wacker and it is part of the EXPAND-It line..Which has numerous attachments for it...
Date published: 2018-02-12
Rated

4

out of

5
by
Lynn C
from
Great Multi-Tool
Bought this a few weeks ago to replace a gasoline powered unit that had become troublesome (They all do eventually). The string trimmer is very good at horizontal plane work, but really did not do well as an edging tool for my thick San Augustine lawn. So I looked up the edger tool, and that combination really makes edging quick and easy. I now have the proverbial right tools for the job, and I could not be more happy...and all for less money than I would have paid for another gasoline unit. The only criticism is that the power head is only one speed. For trimming, I sometimes like a slower speed for more control around trees and other architectural details.
Date published: 2018-08-10
Rated

4

out of

5
by
Dogster
from
Most powerful electric trimmer I have ever found
This is the latest version of this model I have purchased. I have owned several over the past 15-20 years. With care and use of the proper gauge and length of electric cord, they have lasted an average of 5-6 years. You could use one an entire season and then throw it away and you'd still be many dollars ahead of paying someone to do your yardwork trimming. Just wish the switch was improved to give it a more positive feel and that the strain relief on the back of the motor was placed in a different position so that when you are clearing a jam or releasing more string you don't have to rest the machine on the strain relief.
Date published: 2021-11-04
Rated

4

out of

5
by
Old but slow
from
Decided to live with a corded trimmer/edger
Bought this trimmer and the Expand-It edger. I've had several smaller B&D units in the past but was always frustrated with their limited power and durability. Looked into buying a gas trimmer and edger but found so many bad reviews of everything on the market and decided to go with this Ryobi 10 amp MODEL: #RY41135. It is heavier by far than my old ones but more powerful. I tried both tools out today with very wet soil and had some struggles with the edger loading up with mud. Other than that everything worked well. I'll finish up after it dries out a bit more in the northwest.
Date published: 2018-03-25
Rated

5

out of

5
by
nema_1
from
Great Replacement
I bought this a month ago to replace a 3/8 Horse Power trimmer for which parts are no longer available. That one was a bear and so is this one. It cuts the toughest of growth without even hesitating! With the 18" cut you can get the job done in no time. It might look like overkill but having an overrated machine gives you the extra reserve power when you need it the most. The Cons: A strap would have been nice as it is a little heavy after a while and the cord retainer isn't the best. Other than that it works for me and only time will tell how reliable it will be. The name has been around a while and I put my trust in it.
Date published: 2018-09-04
Rated

5

out of

5
by
Weedsy
from
Works on Big Weeds
Works Great On tall weeds, 1/2" stemmed weeds, young sage brush and more! I Bought it end of April 2020 Home Depot Around $69 and it was delivered a few days later. Easy to put together. I bought the extra roll of .08 string too. It comes with a bit of extra string too. It's a bit heavy for me but I'm getting used to it. I used it on almost half of the yard so far in about 1 hour. The string didn't need replacement yet. For the price it's perfect! Needed an electric because my lightweight Worx 20v keeps running out of battery. I have 2 packs for it and it doesn't have enough power to zip through all my needs like this new Ryobi. I'm considering the 10" pole saw attachment too.
Date published: 2020-05-12
Rated

5

out of

5
by
captblood
from
Plug in electric, better value than batteries.
I purchased a Ryobi electric stringer almost 20 years ago. Used the string trimmer and the rototiller attachment. That one finally died a few ways ago. Bought the new Ryobi trimmer. more powerful, they improved this great machine. Bonus, all of my old attachments still fit! Why mess around with changing batteries and having 20 to 30 minute operating time. Eventually the batteries wear out and are expensive to replace. I have a large lot and the cord is no problem. Better than the constant maintenance, noise and stink of a gas operated trimmer. Try it, you won"t regret it.
Date published: 2018-06-13